News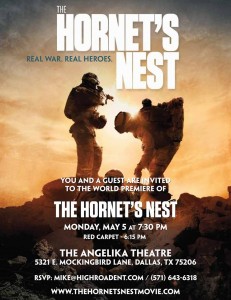 McNay Music Group, Divided Sky Entertainment, & 4 Front Entertainment are honored to have client, Mycle Wastman & and his song "40 Days & Nights in Babylon" on the all-star soundtrack of the poignant new film, The Hornet's Nest.  The Hornet's Nest is an outstanding and powerful film portraying the courageous and selfless warriors that are our servicemen and women. Additional artists include Wynonna Judd & husband Cactus Moser, Kid Rock, Toby Keith, the Pete Scobell Band, among others.
ABOUT THE MOVIE:
"The Hornet's Nest exemplifies the heroism and courage of our military personnel who face endless gun battles, roadside bombings, and sniper fire from an invisible enemy whose one goal is to kill Americans."
"This is the story of our most valiant soldiers and Marines, told through the narrative of a father and son, attempting to reconnect under unimaginable circumstances, who are assigned to cover the conflict for one of the United States' major broadcast networks."
"Every American who sees this powerful film will gain a greater understanding of the heroism and sacrifice made by our soldiers and Marines in combat to protect our freedom." 
The World Premiere of The Hornet's Nest will be shown at The Angelika Theatre in Dallas, TX on Monday, May 5th at 7:30pm (red carpet: 6:15pm), with platform openings in select markets on May 9th & 16th.  The Nashville, TN showing will take place on Friday, May 23rd (theater TBD).  For a full list of release dates and cities, please click here.
Watch Mycle Wastman's official music video for "40 Days & Nights in Babylon"

Watch the making of Mycle Wastman's "40 Days & Nights in Babylon" & the official music video

Written on 05/01/14