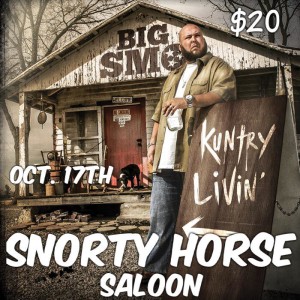 Fresh off the announcement that A&E's original series, "King of Hick-Hop: BIG SMO", will be returning for Season 2, Divided Sky Entertainment is thrilled to be bringing the Reality TV Star back to the legendary Snorty Horse Saloon in Columbia, MO on Saturday, October 17th!
This show is sure to be another sell-out!  A limited number of tickets are still available, and can be purchased at www.SnortyHorse.com.
To watch episodes from Season 1 of Big Smo, visit http://www.aetv.com/big-smo.